The Ancient Order of Hibernians of Nassau County, along with the Historical Society of East Rockaway & Lynbrook will hold their annual Memorial Ceremony for the shipwreck victims of the Bristol and the Mexico (off Long Beach and the Rockaways) on Saturday October 26, 2019 at 11:00 AM in the Rockville Cemetery -45 Merrick Road (between Ocean Avenue & Charles Street)- Lynbrook, New York at the obelisk.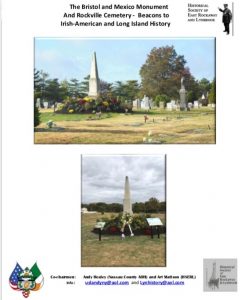 The MEMORIAL CEREMONY is in remembrance of 215 victims – most of them Irish immigrants – who froze to death or drowned in two shipwrecks off Long Beach and Rockaway Beach. The tragedies took place in the winter storms of 1836 – 1837, within sight of shore.
The Bristol and Mexico Monument marks the mass grave of 139 of those victims.
The ceremony also recognizes the citizens of East Rockaway, Lynbrook and Rockville Centre who erected the tall marble monument in 1840, to permanently mark the burial place.