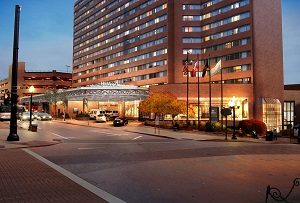 The 2019 Biennial Hibernian Convention will be held Wednesday, July 10, 2019 through Saturday, July 13, 2019. The location is the Hilton Albany (formerly the Crowne Plaza) on State and Chapel Streets in Downtown Albany. Keep up to date on all the convention news by visiting the 2019 Biennial Convention website.
Hilton Albany
40 Lodge Street
Albany, NY 12207
Phone: (518) 462-6611
Room rate: $149.00/night plus taxes; Available July 7 – 16, 2019. Free Wi-Fi access in common areas.
Self-Parking: ​Discounted to $7.00/day.
Hospitality space is very limited. Please consider combining with other candidates from your area.